This turbo has been around for years, and used as a direct bolt-on upgrade for S13 and S14 SR's.
S13 SR comes with a T25 Journal bearing, which in most instances are already due for a rebuild, but this drop-in turbo will be a much better solution. All you need is a turbo reclocking kit to use your current aftermarket intercooler kit.

For the S14's, although it still comes with a ball bearing turbo, the S15 turbo is more efficient, and can serve as a good upgrade or a direct replacement.
Product Description:
OEM Nissan Silvia S15 SR20DET ball Bearing T28 Turbo, Nissan P/N: 14411-91F00. 310 HP capable. Excellent responding turbo for 4 cylinder applications.
Product Specifications:
Compressor Wheel Inducer: 47.7 mm

Compressor Wheel Exducer: 60.1 mm

Compressor Wheel Trim: 60

Turbine Wheel Inducer: 52.9 mm

Turbine Wheel Exducer: 46.3 mm

Turbine Wheel Trim: 62
Compressor & Turbine Maps: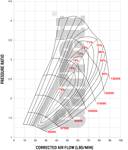 Applicable Garrett Part Numbers: