BRIDE XERO RS - Gradation logo - FRP / SUPER ARAMID
A full bucket seat for a next generation, combining high functionality, comfort, and safety.
In the unlikely event of an accident or collision, the XERO RS is equipped with a large head guards to help protect your head. This full bucket seat was manufactured down to the smallest detail for driveability that far outclasses its contemporaries without compromising safety.
Its fit and comfort have both been improved through its design, made to hug the hips and femoral region, while quilted fabric lining the inner knee supports provides superior fit and seated comfort. These features make fatigue caused by long-distance enduro race practically a thing of the past, allowing the driver to maintain high levels of concentration while driving.

The shell material is available in either FRP Silver Shell or Super Aramid Black Shell variations, with colors available in either Gradient Logo or Black.

Each seat is a FIA-compliant model.

Xero RS Dimensions: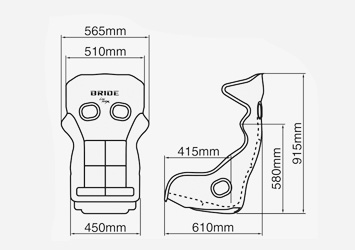 Please allow 8-10 weeks for the item to ship if not in stock.