BRIDE EUROSTERII - Charcoal Gray BE - w / Seat Heater
A comfort reclining seat using a luxurious faux-suede seat material.
EUROSTER II is a standard comfort seat model with an ergonomic design perfect for long drives.

It uses a luxurious faux-suede fabric as its seat material. In addition to its pleasant texture, it is also slip-resistant, making it an excellent seat material that realizes moderate hold performance.

EUROSTER's well-balanced design is popular among those who are purchasing their first sport seat, as it fits types of cars from wagons and mini-vans to highway TOYOTA Hi-Ace 200 lines.
A seat designed in pursuit of comfort
EUROSTER II utilizes a high-class faux-suede fabric for its shoulder and knee support parts for increased support. In the center, which is where the back is, it uses a mesh with good ventilation to avoid unpleasant stuffiness. It has been designed thoroughly to seek comfort for long drives.
Seat heater installation models can also be selected.
All models of EUROSTER can be equipped with seat heater mounted models with built-in heater on the back and seat. Unlike the air conditioner that uses the heat of the engine, the seat heater will warm up immediately even in cold winter. By using it together with the air conditioner, since it warms the body directly from the back and the seating surface, not only will the body warm from the core in a short time, but drying inside the car can be reduced. Easy connection (only for 12V cars) to install in the cigar socket is installed, so you can maintain your favorite temperature with 2 stages of temperature control, so it is also ideal for open cars.

The seat heater unit is not sold separately or post-installation.
Multiple seat heaters cannot be used at the same time.
EUROSTERII Dimensions: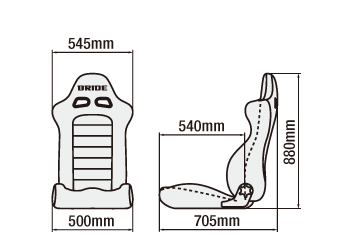 Adopting design that goes with any car model and high grade seat material
The well-balanced seat design of EUROSTER series matches a wide variety of car models including mini-vans, TOYOTA Hi-Ace 200, and Camroad. The seat material used with the EUROSTER II is high-class faux suede fabric, and with the EUROSTER II PREMIUM it is protein leather. Both of these fabrics are luxurious while also achieving anti-slip holdability in the case of the high-class faux suede and comfort that avoids stuffiness in the case of the protein leather.
A seat design based on human engineering. An evolved "New Ergonomics Design"
The New Ergonomics Design focuses on being easy for the driver to use and avoiding strain. The form designed to gently envelop the driver's body and the high-density polyutherene foam equalize the contact pressure to the driver. The result is a distribution of the driver's body pressure which enables overwhelming comfort and holdability.
Angle can be adjusted with a single touch. Easy-to-use super recliner
EUROSTER series is equipped with a super recliner which allows easy adjustment of the reclining angle of the backrest. The backrest can be folded forward with a single touch. The super recliner comes equipped with a quick lever which allows smooth position adjustment so you can easily adjust the seat to the perfect position for you.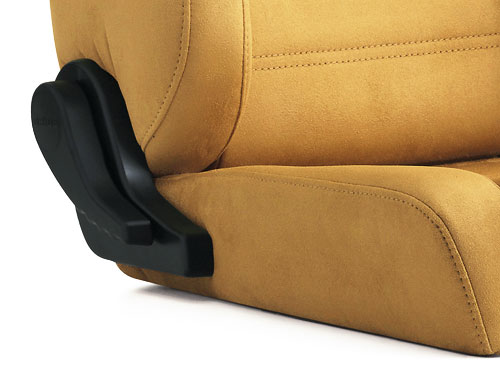 Abundant color variation with 7 colors
The EUROSTER series features abundant color variation to match all car models. EUROSTER has expanded to 7 colors including blacks, grays, beige, red, and blue. The protein leather EUROSTER II PREMIUM has also expanded to 3 color variations. Also, with each variation, you can select a model equipped with seat heater.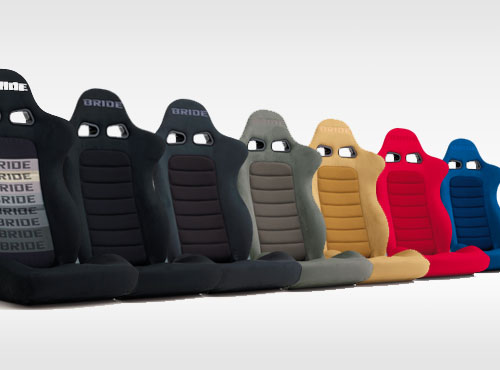 Please allow 8-10 weeks for the item to ship if not in stock.